A major win for people and planet
July 14, 2023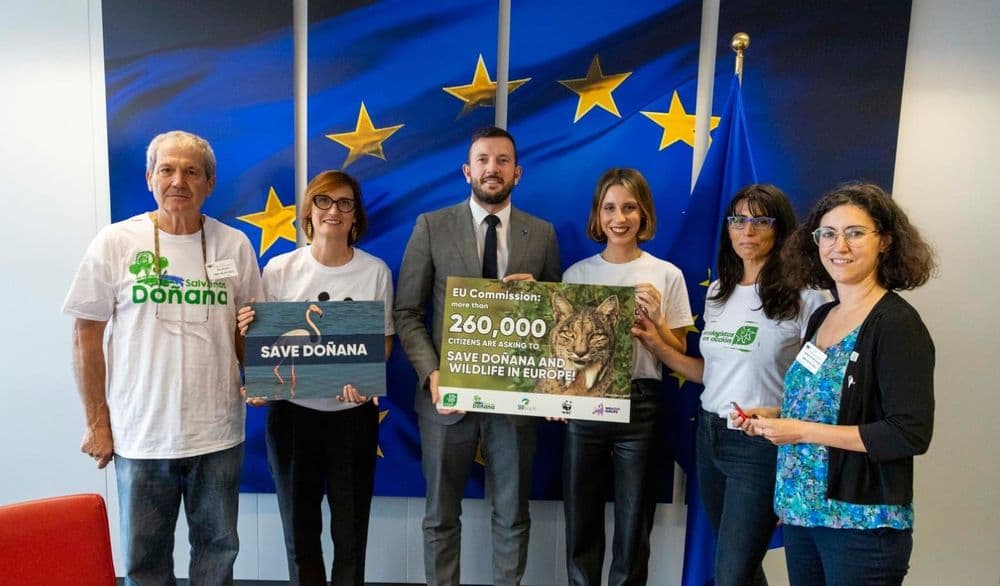 On Thursday 15th July, we won an extremely tight vote in the European Parliament to restore nature.
Here's why this law is so important: the corporate sponsors of climate change and industrial agriculture are killing off nature and forests at an alarming rate. In the last few years, we lost more than half of insects and birds in the countryside. [1]
The nature restoration law wants to turn back the clock on this destruction by restoring twenty percent of all degraded nature areas in Europe's land and sea. [2] That means **making our cities greener, planting trees **to restore our forests and creating more space for nature to recover. It also means we'll get better protection from floods, oppressive heat waves and droughts. [3]
The conservatives, their leader Manfred Weber and the industrial farming lobby Copa-Cogeca ran a shocking disinformation campaign - turning this into a close vote. [4] They didn't succeed - thanks to a huge push from people like us and activists, scientists, UN representatives, even hunters, farmers and business CEOs from all over Europe. [5]
But they did manage to water down the text of the law: key parts to make farming sustainable, to restore peatlands and to save bees were thrown out. [6] It's not a done deal yet, there is still one key stage of negotiations left and we'll be there to bring back the ambition. [7]
While the law is not perfect, it's a major win against the lies and vested interests of the right, the far right and the industrial farming lobby. Most farmers in Europe are small-holder farmers who are not represented by Copa-Cogeca and they know that we cannot grow food against nature. [8]
But this is not all.
There's another story about protecting nature that didn't make international headlines. It's about a local but no less important fight: the natural park Doñana in Spain is being bled dry to maximise profits for big land-owners. [9]
Thanks to you and the over 260.000 people who took action, we've secured a meeting with a key decision-maker in the European Union: the European Commissioner for the Environment, Virginijus Sinkevicius.
In the meeting he committed to keeping the pressure on Spain if they break EU law and ensure that this rare and beautiful natural park will be protected. [10] And with your help, we'll hold him to his word.
It's been a good week for nature. And it's also been a good week for people in Europe who are fighting for a better world.
These two stories show me just how much we can get done when we work together. I'm so grateful that we have each other.
References:
[1] https://www.theguardian.com/world/2023/jul/12/eu-passes-nature-restoration-law-vote-meps
[2] https://www.nytimes.com/2023/07/12/climate/europe-nature-restoration-law.html
[3] https://environment.ec.europa.eu/topics/nature-and-biodiversity/nature-restoration-law_en
[4] 142 of the 163 members of the European People's Party (EPP) voted against the law. Its leader Manfred Weber ran the campaign to torpedo the law. https://twitter.com/GreensEFA/status/1679113357146685442?t=Z6yzY4YalRTGC-xaOzGi9g&s=03 https://euobserver.com/green-economy/157151
[5] The Director of the Environment department of the European Commission, Florika Fink-Hooijer tweeted this 'Scientists, bankers, clergy men, hunters, UN representatives, youth - they all spoke up' https://www.politico.eu/article/greta-thunberg-green-activists-face-off-with-farmers-over-nature-law-restoration-regulation/
[6] https://eeb.org/weber-fails-to-derail-eu-green-deal-but-parliament-agrees-to-a-weakened-nature-restoration-law/
[7] It now goes to a committee of representatives from the E.U. executive, Parliament and national governments, called Trialogue. https://eur-lex.europa.eu/EN/legal-content/glossary/trilogue.html
[8] https://www.politico.eu/article/copa-cogeca-farmering-lobby-europe/
[9] https://www.euronews.com/green/2023/06/23/spanish-strawberry-growers-deny-using-illegal-irrigation-sparks-controversy
[10] https://www.euractiv.com/section/agriculture-food/news/eu-commission-concern-about-donana-natural-reserve-very-high/